Business Studies
Business Studies
Subject overview
With political instability and upheaval around the globe, emerging markets like China, India and Mexico, and rapid development of technology, the business environment is currently going through some of its biggest changes since the industrial revolution; this course provides a fantastic insight into this quickly evolving and fascinating world. The qualification is engaging and inspiring in the hope to create commercially minded and enterprising individuals to help them succeed in a world where the need for understanding the business environment has never been so important.
GCSE -Edexcel
| | |
| --- | --- |
| 1.1 Enterprise and entrepreneurship | 2.1 Growing the business |
| 1.2 Spotting a business opportunity | 2.2 Making marketing decisions |
| 1.3 Putting a business idea into practice | 2.3 Making operational decisions |
| 1.4 Making the business effective | 2.4 Making financial decisions |
| 1.5 Understanding external influences | 2.5 Making human resource decisions |
How and when will I be assessed?
You will sit two written examinations both at the end of the course in Year 11.
Paper 1 – Theme 1: Investigating small business (1 hour 30 minutes)
90 Marks
50 % of the qualification
Paper 1 – Theme 1: Building a business (1 hour 30 minutes)
90 Marks
50 % of the qualification
A-Level - Edexcel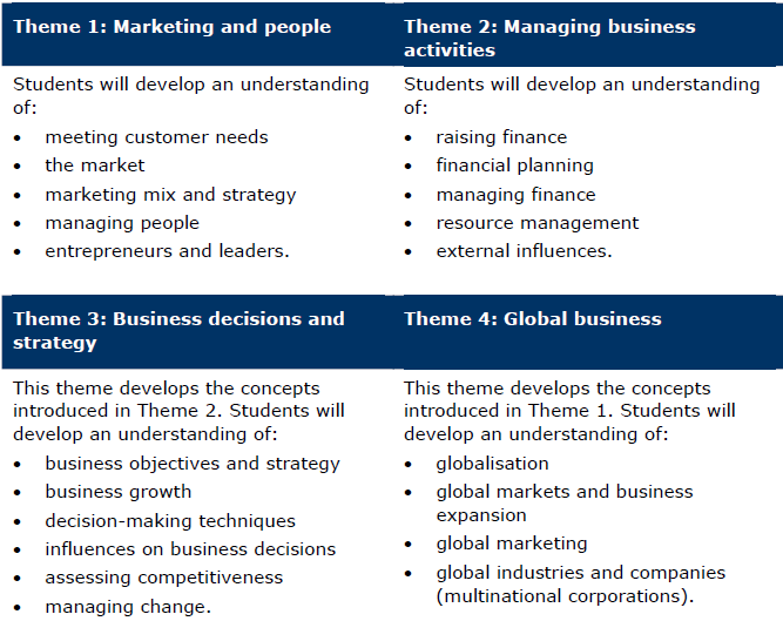 How and when will I be assessed?
All 3 examinations will take place at the end of Year 13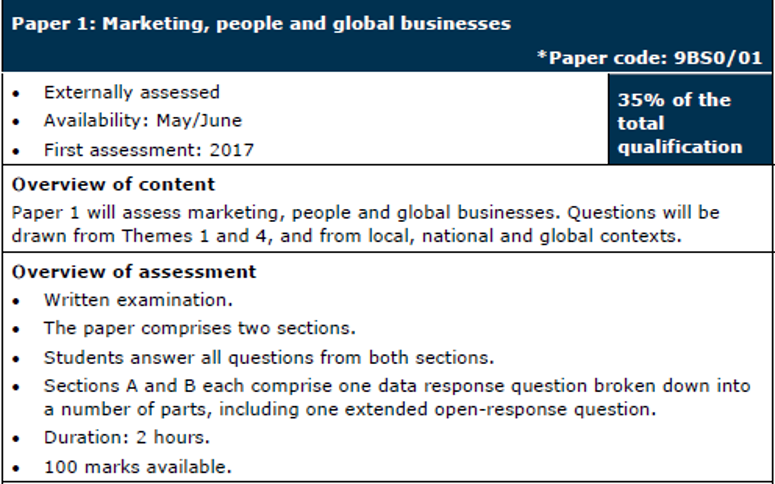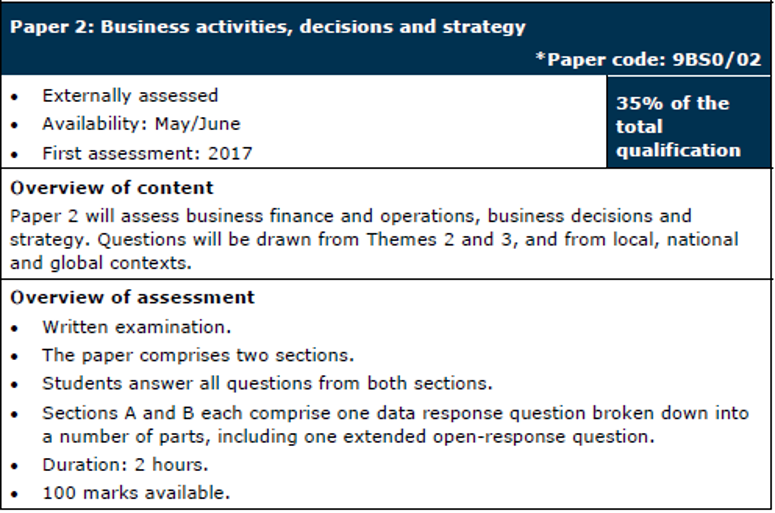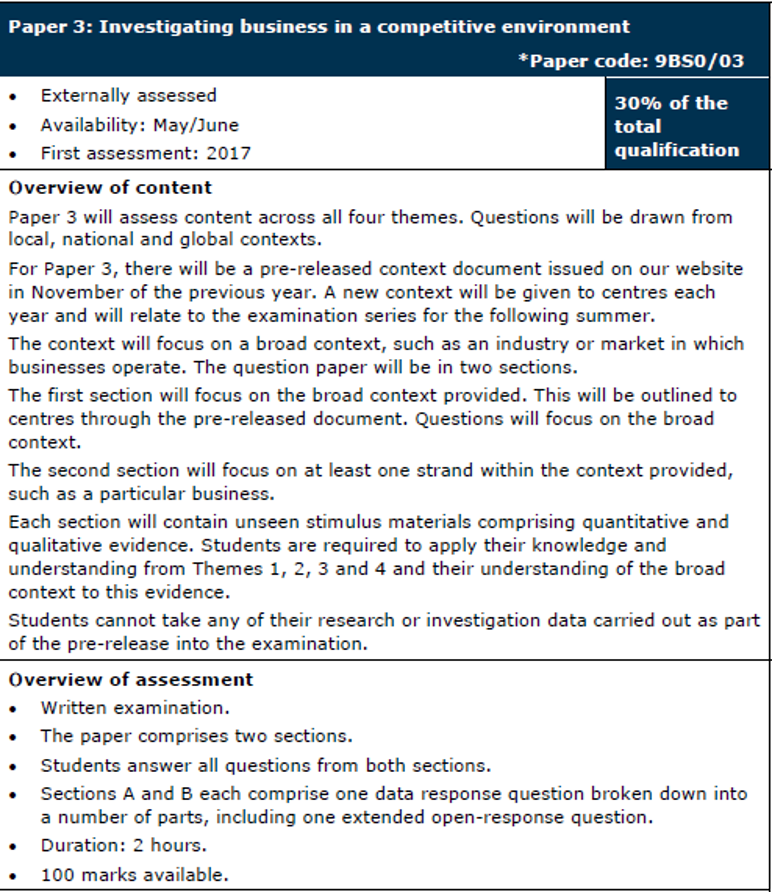 BUSINESS AWARD BTEC
What will I study?
The aim of this subject is to inspire and enthuse students to consider a career in one of the many areas of business, such as marketing, finance, sales, recruitment or retail. The course aims to give students the opportunity to gain a broad knowledge and understanding of, and develop skills in the business sector.
The units that will be studied are:
1. Exploring Enterprises
2. Planning for and Running an Enterprise
3. Promotion and Finance for Enterprise
How and when will I be assessed?
For units 1 and 2 you will complete assignments in class and for homework which will be marked by your teacher. The assignments build a portfolio of evidence to demonstrate the skills that you have developed. You will also take an exam in the "Promotion and Finance for Enterprise" unit . Unit 1 and 2 are each worth 30% of your final grade, exam is 40% and you will gain one of the following grades; Level 1 Pass, Level 2 Pass, Merit or Distinction.
Which key skills will I develop?
Essential skills that will be developed throughout the course include researching and presenting relevant information, working independently and as part of a team. There is plenty of scope to be imaginative and creative while developing a strong understanding of the risks and opportunities associated with the world of business.
Where might this qualification lead me?
This course will support progression to a more specialised level 2 or 3 vocational or academic business course or an apprenticeship. It will give students the potential opportunity to enter employment within a wide range of junior job roles across different business areas. Junior job roles include: Marketing Assistant, Business Administrator and Finance Assistant. It is possible to continue with study of a vocational qualification at Level 3, such as a BTEC National in Enterprise and Entrepreneurship, which will prepare you to enter employment or apprenticeships, or to move on to higher education by studying a degree in the business sector.